Kelechi Iheanacho Makes International Splash, 12 European Teams Chase Midfielder
Published: October 27, 2013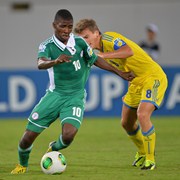 The Nigerian U17 National Team is making itself known these days during the World Cup in United Arab Emirates. Among the team's many young talents, 17 year old Kelechi Iheanacho is standing out!
Back home in Imo State sits a very proud father, James Iheanacho. His wife — Kelechi's mother — tragically passed away earlier this year.
Every goal he scores, Kelechi dedicates to her. In the wake of the family tragedy, there's nothing James would want more than to see his talented son succeed.
To assist them in this goal, Kelechi Iheanacho and his father have signed an exclusive agreement with First Eleven Management of the United States.
FIFA agent Henry Galeano represents the company. It seems everybody wants a piece of Kelechi Iheanacho!
"We discovered and signed with young Iheanacho earlier this year. Naturally, we are present at the World Cup, working hard for our player. We are p roud of what Iheanacho has done so far in this tournament. The attention around him is extremely high," Galeano says.
At the moment, there are more than a dozen European soccer teams interested in signing the 17 year old Nigerian sensation. It seems everybody want s a piece of Kelechi Iheanacho!
"First Eleven Management has the exclusive right to represent Iheanacho. We are aware of stories and fraudulent documents claiming otherwis e, but those are to be ignored. We take our job very seriously and First Eleven intends to bring Kelechi Iheanacho into the international world of soccer, " says FIFA agent Henry Galeano.
Kelechi Iheanacho is an attacking midfielder. During this World Cup, he has scored four goals and assisted in two more. The Nigerian U17 Nati onal Team is playing Iran on Tuesday night, Oct. 29, in Al Ain City.
Photo Credit : fifa.com