30 Members of Synagogue welcome SANI EMMANUEL to Greece
Published: September 24, 2010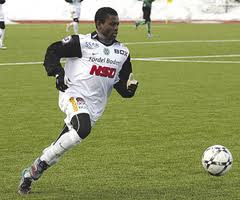 Two members of the Flying Eagles, Sani Emmanuel and Ogenyi Onazi, have arrived Greece to start trials with Greek giants Panathinaikos. 30 members of the Synagogue Church based in Greece were at the airport to welcome them when they stepped foot on the
El Venizelo
.
The youngsters were fascinated at the reception accorded them, a new chapter - possibly - to open their football careers with the 'Green'. Sani and Onazi will be tested in Peania, initially under the guidance of Juan Ramon Rocha in the first team, and gradually Nick Nioplias. The Nigerians arrived the airport with several bags, an indication that they intend to convince Pana to sign them.
''It is a great opportunity to be in Panathinaikos and we preferred them not because it's just a big club and Greece is a Christian country.It is best to start from Panathinaikos our European career, "said Sani, who when asked about Emmanuel Olisadebe who has worn the green jersey said: ''I know Olisadebe and would be happy to follow his footsteps''.
Ogenyi Onazi remained religious when questioned by the Press. He said: ''I feel very well. Greece is a very religious country. Thanks to Panathinaikos for giving us the opportunity''.