ADEGBOYE ONIGBINDE Loses Wife
Published: October 09, 2011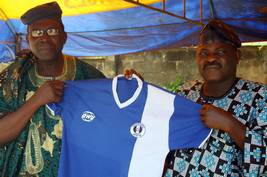 Cold hands of death early morning of Sunday snatched away one of the wives of Chief Adegboye Onigbinde, Chief Mrs. Regina Omobonike Onigbinde, at their Felele, Ibadan residence.
The deceased, aged 69 passed away at exactly 7:30 am Sunday morning after a protracted illness. Scores of well-wishers mostly from the football family in Ibadan have continued to besiege Onigbinde Crescent, Felele-Rab, Ibadan to sympathize with the football technocrats.
Chief Mrs. Omobonike is survived by Mr. Gbenga Onigbinde, Mrs. Bolade Adesuyi, Mr. Adeoye Onigbinde, Mrs. Seyi Odelola and Kunle Onigbinde.
Burial arrangement according to the FIFA/CAF Technical Instructor who was just returning home that Sunday morning from CAF's Coaches Training Course held in Abuja will this week be announced.