Exclusive - PERPETUA NKWOCHA: It's Time To Quit
Published: October 01, 2012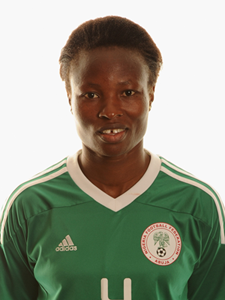 Although she still looks very youthful, and could pass for a lass of 16 (a la Sweet Sixteen), four-time African Women's Footballer of The Year, Perpetua Nkwocha is never shy to reveal that she is actually 36-years-old!
During a chance encounter with the Sweden-based Super Falcons top-scorer in Owerri, Imo State, Nkwocha told
allnigeriasoccer.com
that she has finalized plans to hang her boots this year, but confessed that it was a huge disappointment for her that she could not make it happen during the London 2012 Olympics, as Nigeria did not qualify.
ANS: Let's start from the award you got, for the fourth time as African Women's Footballer of The Year; does that make you truly fulfilled for taking a decision back then to become a footballer?NKWOCHA
: That's true. In fact, I have no regrets at all for being a footballer, especially as I have gained so much from football. I have achieved a lot through football, and I am not regretting anything.
ANS
:
Aside national and international honor, you have also been recognized by your state, Imo; but we wonder, what have you put back into the community that produced you?NKWOCHA
: I do not actually want to sound like I'm boasting of what I have done, but I do have a club that I am supporting in my home town, Ngwor Okpala. The team is called Perpetua Nkwocha FC. I am glad that God has made it possible for me to sponsor the club in the little way that I can. Just like I was encouraged when I was growing up, I am also trying to encourage the young ones in my village.
ANS: Is the club for girls?NKWOCHA
: No, it is a boys' team, but we are trying to encourage the girls to also start joining so that we can extend the team like a real football academy.

ANS: When last did you see the team?NKWOCHA
: I was there for the last Christmas holiday, and even spent a long time with them. I grew up in that village and I don't see any reason why I should not stay there when I am on holiday. In fact, I don't have any fear staying there…

ANS: So, we can safely say a village girl has grown to become African player of the year. What does that mean to you?NKWOCHA
: I feel so great. The award that I won last year was the fourth time I am winning it, and I am very grateful to God for making it possible. It was another way for me being able to confirm that I am still playing well. I must have done well, since it is CAF that gave me the award, which I believe was justified by my hard work and I am convinced that I deserved it.

ANS: But we hardly hear anything about you playing for your club …NKWOCHA
: That's true; but if you watched my performances at the African Women's Championship and the World Cup you will admit that I was in top form and I personally believe that I did well.

ANS: You spoke about extended your club at Ngwor Okpala into a girls' team, but what efforts are you making to ensure Imo State also gets a women's club in the national league?NKWOCHA
: Yes, that's a good idea. I will try all my effort to support the idea, especially now that I am about to retire. I am already taking a coaching course in Sweden and I could work actively with a female club in Imo State. That would help us change the current situation in which girls from here have to go to Calabar or Port Harcourt before they can play in the league.
Imagine, Imo State is my state, but I spent like seven years in Cross River, playing for their club, Pelican Stars. I am really thinking about the need for Imo State to have its own female club and I believe that sports loving people in this state will contribute to make it work.
ANS
:
You just confirmed that you are now thinking about retirement, and we could infer that, at age 36, you should now be thinking of starting a family. Has football prevented you from being a wife and mother?NKWOCHA
: No, it's not like that! You can start a family even when you are playing football. I've seen other female footballers that take a break to have children and still return to play for their clubs and countries. It's just that I already feel fulfilled, especially after I've won African player of the year four times. If I should say it, I believe that I have tried my best as a player and I want to do something else.
ANS: Still about this retirement thing … the African Women's Championship is just round the corner and you surely will be invited for the competition by Coach Kadiri Ikhana; will you honour the invitation?NKWOCHA
: Yes, that will be my last outing with the Super Falcons. My initial plan was to bow out with the Olympic Games in London, but we did not qualify. That's why I have chosen the African Women's Championship as the last competition that I will have to play for the national team before I retire.
ANS
:
Many lovers of female football believe the inability of the Falcons to qualify for the Olympics was a huge setback for the game in Nigeria; do you share this opinion?NKWOCHA
: Yes, I feel really sad for myself and for players that are coming up; because it will take another four years for them to get the chance of getting to that level again. I was personally hoping to end my career with the Olympics, but now I am thinking of the AWC, which is of a lower level. It's a big blow for all of us, because the Olympics would have been another opportunity to show the world what the Falcons can do.
ANS: Back to your award as African Women's Player of The Year. You won it twice, had a long break for another two years, then came back and won it twice again … why the break in the first place?NKWOCHA
: I think it was just because of what happened at the AWC in Equatorial Guinea. Not just me, all the players. Our performance was not just good enough. We could not win the cup, which was the first time ever we did not take the trophy, and I believe that affected my rating.
ANS: On a lighter note, back to your retirement; you are 36-years-old, but you look like a 16-year-old … what's the secret?
NKWOCHA
: I think it's just because I train hard. It's because of my regular training, as I concentrate fully on football, since I don't have any other thing to do. Maybe I watch what I eat, but I have to keep training in order to be able to play, and that, I believe, has helped me keep my shape.

ANS: That's understandable. We wish happy retirement and good luck in your future endeavours…NKWOCHA
: Thank you…
Alexander Kanec