Chipolopolo Players To Get US$90,000 Each If They Win Afcon
Published: January 20, 2013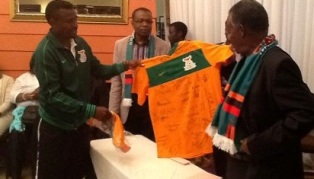 The Zambia government has promised to give the Chipolopolo boys up to US$90,000.00 each if they retain the Africa cup of nations title this year.
This was announced to the team today (Sunday) by sports minister Chishimba Kambwili soon after President Micheai SATA and first lady Christine Kaseba visited the team at their Nelspruit base today.
Kambwili further said the players will each get US$20,000.00 if they get to the finals.
President Sata gave a clear message on the expectation of the nation as he urged the team to retain the cup.
"What you have to bear in mind is that the people of Zambia support you. When you start on Monday, fight! Be brave and fight like the freedom fighters who won independence. You have won the cup once, but we want you to win it again; so don't worry about anything. Go and play and even if you meet the hosts at any stage, go and wallop them," the president said.
The president was presented with an orange Chipolopolo jersey by team captain (presentation in photo).
The national team has continued to get massive support from the government and the goodwill message and visit by the president to the national team camp will act as a morale booster ahead of the opening game against Ethiopia on Monday.
-
Thanks to zambianfootball.co.zm