Christian Obodo Clears The Air On Marijuana, Romanian Girls
Published: July 11, 2013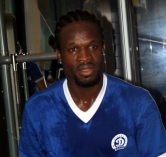 Nigeria international Christian Obodo was recently in the news for the wrong reasons, with reports suggesting that he absconded from his Belarusian club Dynamo Minsk.
General Director of Dinamo Minsk, Sergei Pavlyukovich reported the midfielder missing, only for him to be cited in Udine by Italian Police, who discovered that his male companion was in possession of 52g of marijuana and two Romanian prostitutes were in his entourage.
Finally, Christian Obodo has broken his silence on the incident, declaring that he is innocent of all allegations leveled against him.
''When I arrived in Italy, I lived in the house with my compatriot with whom we have long been familiar.
''Since my car was in another city, I used another vehicle. That Sunday we arranged to go out to see the Confederations Cup final between Brazil and Spain,'' Christian Obodo said to
goals.by.
They 29 - year - old continued: ''On the way we stopped at my girlfriend, with whom we had not seen for six months, and she invited her friend, with whom we had not seen before.
''Not far from the place where we were going to watch the match, we were stopped by a police patrol.
''I said, 'All right, these are my friends. " They demanded to see the documents. Then we decided to check out the car. I say, "Please see the car belongs to my friend." Then they found marijuana in the car.
''Me and the girls were sent home, and the other was detained. I was very angry with my friend when he came back.
'' Later came the story that Christian with a friend and two prostitutes were arrested by the police, and they were found with marijuana.''
Christian Obodo has struggled with injuries since his switch to Dinamo Minsk in the winter transfer market. In total, he has played just eight minutes for the capital team.
Photo Credit: dinamo-minsk.by