Kenneth Obodo Defends Brother, Christian
Published: July 18, 2013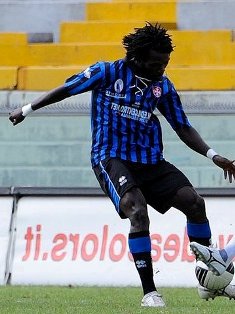 Kenneth Obodo, younger brother of Dinamo Minsk midfielder Christian, says the Nigeria international is innocent, after reports emerged earlier this month he was found by a police patrol in Udine, Italy in the company of women of easy virtue.
''Christian was injured and came to Italy to treat himself .
''He was not with his car and called a Nigerian friend to take him to a restaurant to have dinner.
''After they finished eating, they were going to watch the Confederations Cup final between Spain and Brazil.
''Police stopped them and found marijuana. Christian did not know what was in the car and when his friend was arrested, he cleared him of any wrongdoing,'' Kenneth Obodo told
allnigeriasoccer.com
in a telephone conversation.
Adding to his previous statement, the
Grosseto defensive midfielder said:

''The two Romanian girls in the car were not prostitutes. They are students and I know them very well.

''Christian carries himself with dignity, he is not that kind of person. It is unfortunate because he is a star the story was blown out of proportion.''

Kenneth Obodo is now with Grosseto for pre - season training, but he was in Nigeria last month to tie the knot with his long time girlfriend.