Fanendo Adi's Brace Knocks Out IFK Gothenburg From Europa League
Published: July 25, 2013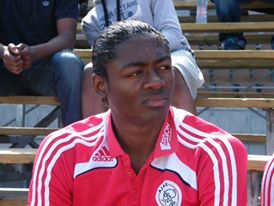 Swedish club IFK Gothenburg were knocked out of the Europa League on Thursday night following their 2 -1 loss to Slovak side AS TrenĂ"Ťín.
22 - year - old Nigerian striker Fanendo Adi was the hero for AS TrenĂ"Ťín , scoring in each half of the encounter .
The Swedes scored late on, in the 82nd minute through Philip Haglund to ensure a thrilling closing period.
''
It's a great feeling, we have a great young team. We want to play football and that is what we have shown today.

'' We played against a very good team, but I am happy we came out victorious.

''I am not disappointed at all that I did not score a hat - trick.

'' It was a great game tonight,we scored two goals that gave us the qualification for the next round , it is great,

'' Even when the scoreline was reading 2 - 1, we did not panic. We were confident of winning because we believed until the end of the game'' says Adi to allnigeriasoccer.com.


AS TrenĂ"Ťín welcome FC Astra PloieĂ…źti in the first leg third qualifying round of the Europa League next week, and Adi is confident the Romanians won't stop their progress.
'' Every round is tough, we are looking forward to the game. We need to work and practice very hard.
'' We believe in this one family team, so we will go out in the next round with high confidence,'' he concluded.