Updated - Nosa Igiebor : I Love Playing With Verdu
Published: August 06, 2013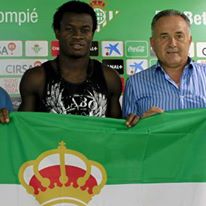 Nosa Igiebor is having a great preseason. So much so that yesterday was the scorer of the equalizing goal in the exhibition match against Fulham.
After completing the game, the Nigeria international midfielder made an assessment thereof.
Estadiodeportivo.com
citing Betis official media quoted Nosa Igiebor as saying : '' Playing against Fulham is an honor, it's a good team. Has been a good test for us. Was tough and we had to give the best of us, has been the best use to test our state. "
"It's a Premier League team and you have to understand that it was not easy.
'' Been slow to realize how they played them and then was better when we came back in the second half.
''The coach was clear and told us in the locker room that we should be more direct .The first part was quite flat.''
The midfielder also wanted to highlight the good understanding he has with Verdú, who gave him the pass to score the goal.
"I love playing with Verdú, I've always said. Think the same kind of football, we are able to understand each other well .
'' The feeling is very good with him. I do not think about the goal, even having scored,'' said Nosa.
Nosa has become an indispensable element for Pepe Mel in midfield.
Now is to see the number of goals in official competition the Nigerian can score for Betis next season.
-
Thanks to Estadiodeportivo.com
Photo Credit : realbetisbalompie.es