Liverpool Agree Fee With Chelsea For Victor Moses
Published: September 01, 2013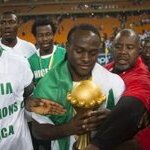 Liverpool have agreed a one million pounds rental fee with Chelsea for Nigeria international Victor Moses.
The electronic edition of
The Guardian UK
says Moses is way behind Jose Mourinho's pecking order of attacking midfielders and the Londoners have rubber-stamped his transfer to Liverpool to enhance his chances of playing first team football this season.
Victor Moses, 23 in December, had been on the wishlist of West Bromwich Albion, Southampton and Everton in the ongoing summer transfer market.
He will complete his transfer to Liverpool before the close of the transfer window on Monday night.
Last season, the exciting youngster, a product of Crystal Palace's academy, suited up 23 times for Chelsea in the Premier League.
Photo Credit : Private

Latest News