Avoiding Relegation Is Obinna Ajoku's Main Goal
Published: September 05, 2013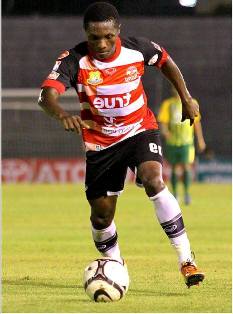 Little known Nigerian attacker Obinna Ajoku believes his goals will assist Thailand Premier League team Pattaya United avoid relegation.
Pattaya United, with 19 points from 25 matches, are 16th on the 18 - team table. Only a paltry 3 points separate them from 17th on the log Chiangrai United.
'' It is unfortunate when I signed a two - year contract with Pattaya in December, I had to leave for Nigeria to process my work permit. But I was stuck in Nigeria until two months ago as there were strict visa requirements.
'' I will do my best. The club were so professional, I was paid my wages even when I was not playing. I believe with my abilities and that of my teammates we will not be relegated,'' Obinna Ajoku told
allnigeriasoccer.com
.
Several Nigerian players are flocking to Thailand and that influx can be attributed to economic and sporting reasons.
A lot of scouts from Europe and other parts of Asia monitor the league. On the average, Nigerian players in the Premier League earn between $10,000 - $15,000 monthly and that figure excludes sign on bonus.
'' There are four of us here in the top division. Even getting a contract here is not easy.
'' In my team there are two of us but there are so many Nigerians playing in the first division. And we are all doing well,'' said Ajoku.
Obinna Ajoku , 28, played for local teams Sharks, Gateway, Rovers and Gabros before he departed the shores of the country to Vietnam, where he signed a contract with Nam Định FC.
He has netted 4 goals in 7 Thai Premier League matches.
Photo Credit : Private