FCM Coach Lavishes Praise On Izunna Uzochukwu
Published: September 30, 2013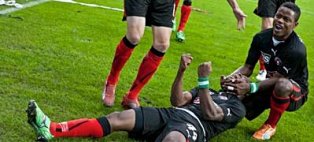 FC Midtjylland's Izunna Uzochukwu netted his first goal in the Danish championship on Sunday, netting from distance in the 1 - 1 draw with OB Odense.
The defensive midfielder had earlier sent several long shots wide of the crossbar.
The head coach even had to ban the player from striking balls from outside the penalty box.
"Yes, I said to him at one point, but I have given him permission again.
"It was a fantastic goal. Izunna is both older, more mature, serene and calm in his game, and he has trained like crazy, so I am very pleased that he scored.
"He has scored before in the Super League, but it's just often a little odd goal.
"It just proves that practice makes perfect, which Sly (Sylvester Igboun, ed) has also proven,"managerGlen Riddersholm told bold.dk.
23 - year - old Uzochukwu has netted 5 goals in 138 matches for the Wolves in all competitions.