Midtjylland Nigerians Stop Femi Ajilore
Published: October 01, 2013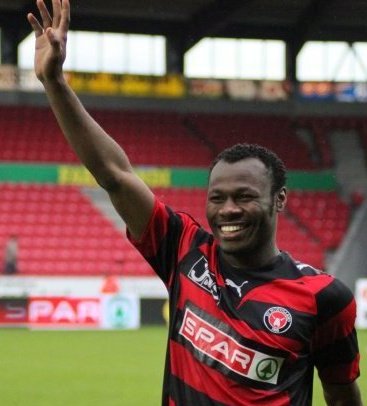 High expectations of a belated return to FC Midtjylland of Denmark by former Super Eagles midfielder, Ebenezer Oluwafemi Ajilore (Mayor) may not see light of the day after all, as the presence of several other Nigerians in the squad is posing a stumbling block to high expectations held by the Beijing 2008 Olympics silver medalist.
Ajilore has been toying with the idea of making a return to the club that shot him to international limelight as a Europe-based player, from where he gained a call up to Nigeria's under-23 team under Coach Samson Siasia, but Midtjylland already a total of six Nigerians in their main team and another handful of others in their academy.
The Henning-based clubs array of Nigerian players include Isaac Oliseh, Rilwan Olanrewaju Hassan, Izunna Uzochukwu, Sylvester Igboun and Paul Onuachu.
The setting has now put a blockade to initial reports that Ajilore could be heading back to the club, as sources close to the player told SportsDay his agents believe his return to Midtjylland would obstruct the rapid development of other Nigerians either in the club's academy or on loan to other clubs in order for them to gather useful development elsewhere.
This may not put paid to expectations that Ajilore could finally find an escape route to his current clubless status, following his release by FC Groningen of Holland at the end of last season and his inability to seal a permanent deal at Brondby of Denmark, following an initial loan spell. SportsDay gathered further that Ajilore can still get a transfer clearance visa by the end of this month, to pave way for his joining another club in Europe, but it may no longer be Midtjylland, where he played between 2004 and 2008.
Ajilore, who was sold to Groningen in 2008, admitted that the Danish club are ready to have him back, and chief executive of the outfit, Claus Steinlein said they did what they could to get Ajilore again, but now they must be patient.
"We are obviously annoyed by it, but it is even more unfortunate for Femi, who just wants to play football," a leading Danish website - bold.dk - while citing the club's official website, quoted Steinlein as saying.