Michael Olaitan Ready To Play In Any Position For Olympiakos
Published: October 05, 2013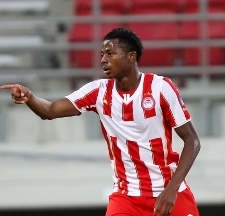 Flying Eagles star Michael Olaitan has declared that he can adapt to any offensive position Olympiakos manager, Michel mandates him to play.
The 20 - year - old is primarily an attacking midfielder but can also cover several roles in attack.
"At Olympiakos and also in the national team of my country I have played in more than one position. I played at the wings, but also behind the striker and the top.
"It doesn't matter for me. When walking into the stadium, the only thing I care about is to play well.
"The position does not play the slightest role. The opponent also, whatever the team.
"I will come in the match, will go to the location that you my coach has chosen for me and I will give my best," Michael Olaitan was quoted as saying by the official website.
Michael Olaitan made his Champions League debut on Wednesday in Olympiakos 3 - 0 victory over Belgians Anderlecht.
Photo Credit : olympiakos.org