Eddy Onazi Plays Down Heroics
Published: October 06, 2013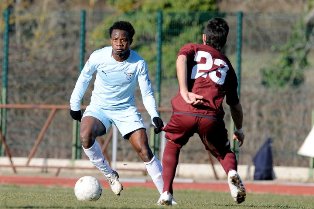 Lazio midfielder Eddy Onazi was dinning with his brother in Italy last week when he spotted a thief who had targeted tourists, and handed him over to the police.
Now, the Nigeria international has modestly brushed aside the praises that he received from local and foreign media.
"A few days ago, news broke about how Onazi caught a mugger in media across the world.
"I wish to implore you not to to overplay my action as I am only regular young man like you out there.
"I did what I need to to do in the heat of the moment without any considerations for the headlines," Eddy Onazi stated.
Adding to his previous statement, the 20 - year - old said:
"As a matter of fact, I consider this as a wake up call to us all about the need to be better citizens and our responsibility to stand up for our neighbor and society at all times.
" Finally, I implore you to go out there and make our society a better place for us."
Eddy Onazi was on target in the Europa League game against Trabzonspor on Thursday, just three days after his blistering pace enabled him catch up with the pick pocket.