Coach Manu Garba Coy About Availability Of Isaac Success
Published: November 04, 2013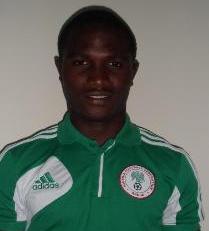 The Head Coach of the Golden Eaglets of Nigeria, Manu Garba says his boys are battle ready for the game against Sweden and have set their eyes on achieving their goal which is to emerge champions at the tournament.
The coach who spoke at the Nigeria/Sweden game pre-match press conference in Dubai also refuses to confirm if Isaac Success is fit for the game.
"If I confirm that Isaac Success will play, the Swedish team will start shivering, I'm keeping that close to my chest.
"All I can say now is that Kelechi and Taiwo are ready as well as other members of the team.
"My team is ready to win this tournament and not even Sweden will stop us." says Manu Garba.
Nigeria enter the match as favourites to maintain their unbeaten run. Alongside Argentina, the African giants are the only team to progress this far without a loss to their name.
The Golden Eaglets dominated Group F before knocking out both Iran and Uruguay, and though their draw with Sweden could be seen as a slight stumble, their impressive
displays of footballing prowess have drawn praise in UAE.
Latest News