Taiwo Awoniyi Declares Himself Fit For Showdown With Sweden
Published: November 04, 2013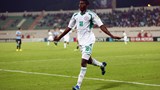 Taiwo Awoniyi is fast becoming a house hold name in Nigeria, due to his exploits for the Nigeria Golden Eaglets at the ongoing FIFA U-17 World Cup in the United Arab Emirates.
The Nigerian forward, just 16 years old, arrived in UAE expecting to learn lessons, supporting his older, more
experienced mates from the bench.
But as faith will have it, an injury to Success Isaac, in the Golden Eaglets` game against Sweden ensured that Awoniyi
becomes Coach Manu Garba first choice striker.
The former Nigeria National U-15 Team top marksman has since not disappointed, weighing in a commendable, three
goals and three assists so far in the tournament.
In a chat with Nigeria National U-15 Team media officer, Bunmi Haruna, in the UAE, Awoniyi , looks ahead of the
Eaglets semi final game against Sweden.
He says Sweden cannot stop Nigeria from reaching the FIFA U-17 World Cup.
"We have learned our lessons from our first game against them, they were lucky to get a draw in that one, but this time around they will not escape.
"We all went to the church early on Sunday it was awesome and we know God will hear our prayer," the Imperial Academy
of Nigeria player said.
Awoniyi who last year was a part of the Copa Coca cola championship winning team in Nigeria and was taken on a tour
of Chelsea's Stamford Bridge in England, also allays any fear about the injury he sustained in the game against Uruguay.
"I'm 100% fit and ready for Sweden game, there is nothing to worry about. Please tell Nigerians that we will not stop until will bring the trophy home."
Awoniiyi is one of the seven former Nigeria National U-15/U-13 Team players that are currently playing for the Golden Eaglets in the UAE.
Others include Salihu Alibaba, Kelechi Iheanacho, Chigozi Obasi, Chidera Ezeh and Habib Makanjuola.
Photo Credit : fifa.com
Latest News