Vincent Enyeama Heaps Praise On Manager Girard
Published: November 04, 2013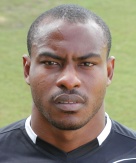 Nigeria international Vincent Enyeama is clearly the most outstanding goalkeeper in Europe at the moment, having not conceded a goal in his last seven matches in Ligue 1.
This past weekend against Monaco, the 31 - year - old custodian prevented Falcao and Rivière - two of the most feared strikers in France with a total of 14 goals between them - from increasing their goals-haul.
The Super Eagle has praised Lille manager René Girard for having faith in his abilities.
"He's like a father to me. I had a lot of coaches. Often, they only cry when a player makes a mistake.
"Rene, he gives you a spanking with his left hand, but at the same time it takes your right arm to make you move," the former Enyimba man told French newspaper
Journal du Dimanche
.
Despite different personalities, religions and culture, members of the National Team, the Super Eagles are very united. Enyeama's teammates at Lille love his positive approach to life.
"In the selection of Nigeria, there is neither rich nor poor, neither Muslim nor Christian.
"Differences are erased. Everyone plays for each other. Solidarity, even money can not buy.
"I do not give a lesson. Instead, I always try to learn from others. In life, all you can do is work hard and hope that God is with you," he stressed.
After 12 rounds of matches in the French championship, Lille occupy the second position with 26 points.
Photo Credit: maccabi-tlv.co.il
Latest News