Revered Argentine coach,RODOLFO ZAPATA analyses the Greece team to face Nigeria
Published: June 05, 2010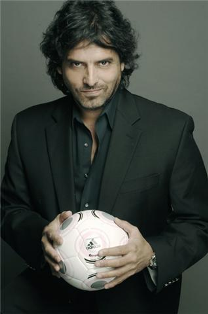 The highly revered Argentine coach,Rodolfo Zapata spoke to allnigeriasoccer.com on the Greece team to face Nigeria at the World Cup on June 17.Zapata is one of the most knowledgeable coaches in the land and applies physical and scientific methods to his tactics.His website
www.rolozapata.com
speaks a lot about his credentials.
What are the expectations in Greece right now as regards the World Cup?National pride is at an all time low,is the team expected to do well at the World Cup?
Rodolfo Zapata: ''I think the economy will not affect the performance of the Greece team.The players won't enter the field thinking about that.Glory and honour are more important than that.
What formation does Greece play? 5-3-2 or 3-5-2?
Rodolfo Zapata:''Greece is a defensive team that relies mostly on counter attacks.They use their midfielders to wear down opponents and they defend in numbers to curtail the opponents attack.
''I think they play a 4-4-1-1 formation.They have a very inexperienced goalkeeper,Kostas Chalkias (PAOK, Greece)Four tall and strong defenders,Vangelis Mora (Bologna, Italy), Vassilis Torosidis (Olympiakos, Greece), Sotirios Kyrgiakos (Liverpool, England) and Nikos Spiropoulos (Panathinaikos, Greece). Four very aggressive and combative midfielders: Dimitris Salpingidis (Panathinaikos, Greece), Alexandros Tziolis (Siena, Italy), Kostas Katsouranis (Panathinaikos, Greece) and Giorgios Karagounis (Panathinaikos, Greece). Angelos Charisteas (Nuremberg, Germany) will be an offensive midfielder. Theofanis Gekas (Frankfurt Eintracht, Germany) is the sole striker. He is a formidable goal scorer and has an amazing goal record at international level(47 caps,20 goals),almost a goal every two games.
''Their performance in recent friendly matches was not too encouraging.They played like a team complacent and lazy.Knowing the German coach,he must be pretty upset with his players.
''I have no doubt that Nigeria will beat Greece because of the skill and individual talent of the Nigerian players.''
Their main weapon is heralded to be the Olympiakos defender,Vassilis Torosidis who can play in a variety of positions.Can you tell us more about him?
Rodolfo Zapata:''Torosidis is a no-nonsense full back known for his exceptional physical strength and endurance. He has been an important part of the Greek national team and his club,Olympiakos.''
What are the strengths and weaknesses of the Greek side? Which players should the Nigerian team watch out for?
Rodolfo Zapata:''Greece has big problems in defense and are not strong offensively. The Super Eagles have to put pressure on them immediately the game starts.They should attack from the flanks to open the closed defense of the Greece team.
''However two things speak for them-tactical discipline and order.They have a great advantage over the Nigerian team in terms of their teamwork.14 players are from the Greek league (most of them are from Panathinaikos). Lagerback made a big mistake by not paying attention to the players in the Nigeria Premier League. He never had an interest in the home based talents…this is the reason why Super Eagles looked so disorganized in recent friendly matches. Teamwork is the key!
''My favorite player in the Greece team is Theofanis Gekas. He is the only hope for Greece in attack,but he would be alone.The Greece team is not strong enough to beat the Eagles. For this reason I believe that Nigeria will win the match against Greece and qualify for the next round as they have an easy opponent,South Korea in their final group game.''
Two of the key players for the Greek national team Panathinaikos defender Seitaridis played just eight league games for Panathinaikos last season while a knee injury ruled the versatile Patsatzoglou out for most part of last season.But they made the World Cup roster.How important are those two to the team?
Rodolfo Zapata:''They are good players. Both suffered serious injuries and i don't see the coach,Rehhagel starting them in the game against Nigeria.''
Greece is expected to very defensive against Nigeria.They are going to the World Cup with nine defenders in their roster.What are the options for Nigeria to break their five man defense especially as psychologically, Nigeria is most likely to have her back against the wall and face possible elimination if the result against Argentina does not go her way?
Rodolfo Zapata:''The game is going to be like a Chess game.We must pay close attention to the game against Greece.It's a very important game as well that could decide if the Eagles progress to the next round or not.It's a winner take all game and the players must show commitment during the game.
''Nigeria must attack from the kick off.If Nigeria can score an early goal,then the Greece team have no option than to come out of defense and that should open the game up.And Nigeria can kill them off using fast breaks and counter attacks.There's absolutely no doubt about the game,Nigeria is winning the game.''
Otto Rehhagel is like a demi-god in Greece after winning Euro 2004.What are his methods and tactics? He refused signing a contract with reduced earnings until after the World Cup.Is this cloud going to affect his output in the World Cup?
Rodolfo Zapata:''No,i don't think so.Rehhagel is a smart coach.I am sure he knows what he's up to.
''Greece play with a stingy defense.They are a team in decline.After winning Euro 2004,they could not qualify for the World Cup in Germany and they were very miserable in Euro 2008.It's a second,maybe third tier team in European football.''
Greece is rated as 6-1 to win Group B and 150-1 to win the tournament.Do you see Rehhagel performing another miracle like he did in 2004?
Rodolfo Zapata:''I don't think so.Many countries now know their methods and that darkhorse reputation is no longer there for them to spring any surprise.I don't see them qualifying for the next round.
''I am tipping Argentina and Nigeria to qualify for the next round.And if Nigeria should come up against France,Uruguay or Mexico in the next round,i am optimistic the Nigerian team will go through to the quarter finals.''