Nigeria, Switzerland, United States, Russia In Group F - El Deforma
Published: December 06, 2013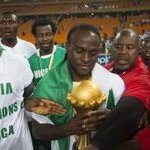 Mexican website El Deforma has claimed that the World Cup draw has been pre - arranged.
This revelation was leaked after a hacker broke into the servers of Fifa and discovered that the groups were already known.
African champions Nigeria have been drawn alongside Switzerland, Russia and United States of America.
The rehearsed draw had pitted the Super Eagles, Uruguay, United States and Iran in Group B.
Football governing body, Fifa will conduct the authentic World Cup draw later today, Friday.
Latest News