3SC For Olubadan Cup Final As IFA Celebrates Florence Ajimobi
Published: December 14, 2013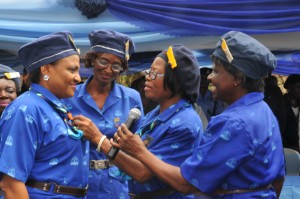 Ibadan Football Association's (IFA) all-time highest scoring side, 3SC Starlets will on Sunday attempt to make history as the first club to win Olubadan Cup for a record of three times as it confront a determined Mocdid Oke-Ado United in an epic final battle slated for Olubadan Stadium Ibadan.
3SC Team 'B' has sent out clear signals of its intention when it walloped ZAAR FC 10-0 in a second round cracker.
En-route the finals 3SC, that last won the trophy three years ago crushed Abbey Lincoln FC 2-0 in the semifinal.
It is the first time according to the director of communications, media and strategies of IFA, Folorunsho Oyelakin that the competition would be played on knockout basis from start to finish which makes this year's edition fiercely exciting with 21 penalty recorded in 59 matches, while 60 clubs taking part.
In order to strike the gender equilibrium, Oyelakin also hinted that the first edition of the maiden Olubadan Female competition has also debuted this year with its final also slated for the same day at 2:pm.
The major highlights of the final is the conferment of Pillar of Health in Oyo State, (Life Saver Award) on the 1st lady of the state, Chief Mrs. Florence Ajimobi for impacting positively on the lives of the residents and citizens of Oyo State through Access to Basic Care (ABC) foundation which has attended to and treated 165,035 patients within 10 months which has proven that free health for all is realizable.
Akanbi Agiri
Photo Credit : mrsfajimobi.com
Latest News