Adigun Salami To Spend Few Days On The Sidelines
Published: February 01, 2014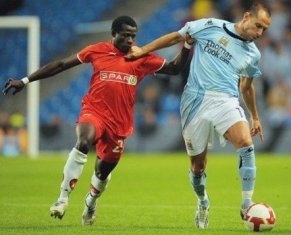 SønderjyskE midfielder Adigun Salami has suffered a relapse to his knee injury which has limited his appearances in the Danish top flight this term.
However, this particular ailment is not as bad as the rest, and that means he will spend only some few days on the sidelines.
"He again got problems with his right knee, which responded to the training he has been through.
"We need to do it all right," says SønderjyskE
'
s physiotherapist, Carl Hamann to bold.dk.
He continued: "Now we take him out of training for a few days, and so we hope he can be back.
"His knees can not hold to train 100 percent of all training, so we have to give him a break once in a while. "
Adigun Salami has spent the last ten years in Denmark and is well known for his stint with FC Midtjylland.