Agent : Michael Olaitan Is Well Known To The Nigeria Federation
Published: February 10, 2014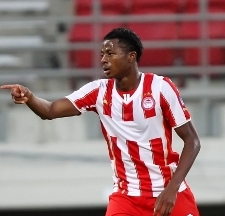 Respected Greek agent Paschalis Tountouris, who represents Olympiakos striker Michael Olaitan, has shared his thoughts and impressions on reports that his client could be invited to the National Team in the nearest future.
21 - year - old Olaitan has been brilliant so far this season especially in the Greece Super League, and is statistically considered to be one of the top 11 strikers in the championship, having netted 7 goals this term.
"Michael is working hard since the first day he joined Olympiacos. He is progressing well and is already considered to be an important asset for his club.
"Fortunately he is getting the full support from the management, the technical staff and his teammates in order to adapt to this new challenging environment,"Paschalis Tountouris, who also handles the affairs of another former Flying Eagle Abdul Ajagun, told
allnigeriasoccer.com
.
Adding to his previous statement, Tountouris of Prosport International said:
"With regards to the National Team, he already represented his country last summer to the U20 World Cup so he is well known to everyone in the NFF.
"I'm pretty sure that the technical staff is well aware of his progress and they can judge better than any of us if he is ready to help or not."
Michael Olaitan was one of the standout players for the Flying Eagles at the Fifa Under 20 World Cup staged in Turkey last summer.
Photo Credit : olympiakos.org

Latest News