John Chibuike Turns Down Move To Dinamo Minsk
Published: February 12, 2014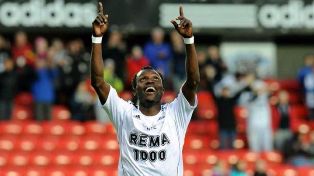 Rosenborg attacking midfielder John Chibuike has turned down a move to Dinamo Minsk.
The topflight team had bid one million euros for him in the winter transfer market, but after weeks of negotiations, the Nigerian was not favorably disposed to the idea of moving to Belarus or even Russia.
Championat.com quoted the 25 - year - old as saying : "I do not want to play in Belarus or Russia. Makes no sense to move to the club of the same level as Rosenborg , or even lower.
"Yeah, I could earn a lot of money, but the money - that is not all. If presume to change the club and league, it should be a place where I can develop.
"I must respect their values, I do not want to go just for the money. I need to be 100% sure that I would have liked a club that I go."
Clubs in Israel (Maccabi Haifa), China and Turkey had expressed interest in the signature of John Chibuke in the winter transfer market.
He was the top scorer for RBK in the league last season with 9 goals in 24 matches.
Latest News