Chinedu Obasi : Game Against Hannover Was Special
Published: February 12, 2014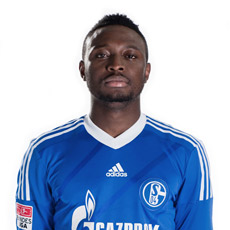 Nigeria international Chinedu Obasi has commented on Schalke's 2 - 0 win over Hannover 96 in the latest round of matches in the Bundesliga.
His appearances for the Royal Blues has been curtailed by injuries since the season started, so it was a rare start for the 27 - year - old at the Gelsenkirchen on Sunday.
And he reckons that he did enjoy a good game against Hannover.
"It was definitely a special game and a really great feeling for me.
"The coach had already given me a chance from the start against Wolfsburg but I needed some time to find my rhythm.
"Against Hannover I wanted to go the next step and help the team even more. I think I managed that very well," says Chinedu Obasi to the official website, schalke04.de.
27 - year - old Obasi has suited up 3 times for Schalke 04 in the championship since the beginning of this season.
Photo Credit : schalke04.de