Ndubuisi Egbo Admits Team Is Suffering Psychologically
Published: February 24, 2014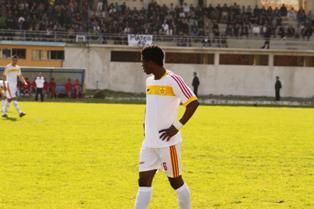 Albanian club Bylis Ballsh , who are managed by retired Nigeria international Ndubuisi Egbo, are flirting with relegation having failed to win any of their last five matches in the championship.
After 20 rounds of games in the Superliga, the club from Mallakastër District have managed to muster only 23 points, and are only 2 points better than last on the table Kastrioti Krujë.
In his post match comments after last weekend's defeat to Lushnja, coach Ndubuisi Egbo has confessed that his team's morale is negative at the moment.
"It's a loss that still burdens us more. As the opponent we play for survival, however those were lost in this contest
"The team is suffering more psychologically after the loss of Tirana.
"Goal was as a result of incorrect alignment of the defense, and then, because we are left with one less player on the field, we had difficulties.
"However we have not given up, but will still continue our fight," says Ndubuisi Egbo.
40 - year - old Ndubuisi Egbo was a player of Bylis Ballsh from 2008 - 2010 before he hung up his boots .

Latest News