Ikechukwu Uche To Miss Granada Clash
Published: March 02, 2014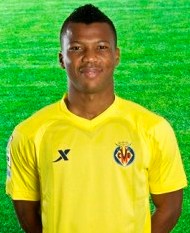 Ikechukwu Uche will not play against his former team Granada next weekend except Villarreal appeal the decision of referee Ignacio Iglesias to send him off on Sunday afternoon against Real Betis (1 - 1).
The Nigeria international was first cautioned in the 63rd minute and received the matching orders for a second bookable offense10 minutes before the final whistle.
Uche had been on the sidelines for close to three weeks before the penultimate round of fixtures where he got 20 minutes of action against Espanyol.
Just as he is having his best season so far in La Liga with 12 strikes, his disciplinary record this term is the worst.
The attacker has been yellow carded 5 times in his last 7 matches in the topflight.
Photo Credit: villarrealcf.es