200 FCT Players Jostle For 2014 FOSLA Academy Football Scholarship
Published: March 10, 2014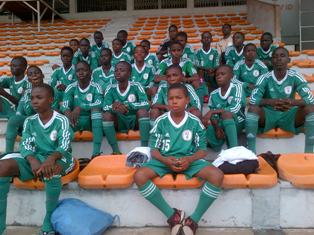 Over 200 players from the six Area Councils in the Federal Capital Territory would compete for the 2014 FOSLA Academy's Football Scholarship program.
The annual football program which is sponsored by the former NFF President Alhaji Sani Lulu Abdullahi will be held at the Academy's playing in Karshi, Abuja.
According to the Acting Chairman of the Academy Dr. John Ogbadu, the program which is aimed at picking the naturally endowed players from the Federal Capital Territory will hold between 4th and 5th April, 2014.
According to him, "the players must be below the ages of 13 years and must be in Primary 5 or 6. They are expected to commence their academic activities with other fee paying students next academic session".
Continuing, the Chairman said "it would interest you to know that FOSLA Academy remains the only privately owned secondary school in Nigeria that has football embedded in its curriculum.
"Our curriculum is tailored in accordance with the National Policy of Education. Our school is also opened to other students who may not want to play football, but want to concentrate on their academics.
"We also accept students whose parents would want them to be taught the rudiments of the game of football, while combining it with their academics.
"We provide the best of facilities for all these. Our school has been rated highly by the FCT Education Board as one with international standard".
He said that the six Area Councils of FCT are expected to present a team. He said only the ten best players would be selected at the end of the program "the teams would play a tournament where the best players would be selected. We would have some prominent coaches on ground to do the selection, while those that could not make it would be encouraged to enter the school as fee paying students."
Speaking in the same vein, the Proprietor of the Academy, Alhaji Sani Lulu Abdullahi said that they are committed to producing students that would excel in their academics and also in the field of football "In the last three years, the boys have played over 35 highly rated friendly matches, winning 33, drawing 1 and losing 1. The boys who are now in 3 categories comprising of U-15 (JSS 3), U-14 (JSS 2) and U-13(JSS 1) are very determined to excel in both the game of football and academics.
He saidthat the new recruits will form the bulk of the U-13 next session and 40 out of the 50 students currently in the school now are on the academy's scholarship.
The former FCT Director of Sports further enjoined parents to enroll their children in school to bring the best out of them
both in academics and football.

Latest News