Michael Olaitan Discharged From Metropolitan Hospital, Thanks Club And Associates
Published: March 12, 2014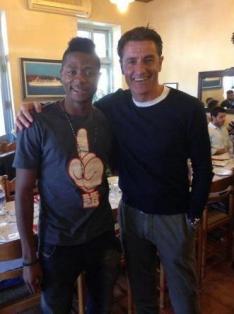 Former Flying Eagles star Michael Olaitan was discharged from the Metropolitan Hospital on Wednesday.
He had been receiving treatment for the past 10 days following the unfortunate incident in the clash between Olympiakos and Panathinaikos.
Immediately after Michael Olaitan's discharge, he paid a visit to his teammates and this coincided with the team's lunch time.
The 21 - year - old attacker expressed his gratitude to his teammates, coaches , management and associates for standing by him during one of the darkest moments of his career.
" At last this long and hard week passed! I am blessed because in this time I felt I was never alone.
"The chairman and the management team, my coach and my teammates were beside me to support me and raise my confidence," Olaitan said in a statement.
He went further : "I want to thank the doctor and medical staff of the Metropolitan for their care.
"Hopefully I will be back soon, stronger than ever and I could thus repay all the love I received.
"Until then we must all support our coach and players because important games coming up. These will bring many more titles and glory in Olympiakara!"
At this point, it is unclear the exact date he would resume training with his teammates until all the tests are concluded and results known.
Photo Credit : Twitter

Latest News