Super - Agent David Lippi To Hit Nigeria Next Month To Hunt For Talents
Published: March 19, 2014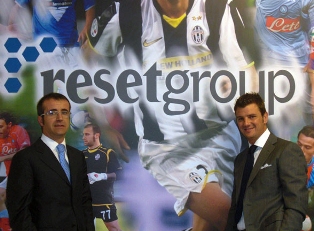 David Lippi, Italian Federation licensed agent and son of World Cup winning coach Marcello Lippi, will arrive Nigeria next month to scout for football talents that will be transferred to major European teams.
Most agents and scouts have beamed their searchlight on the untapped Nigerian market following the impressive performance and brand of football exhibited by the Golden Eaglets at the last Fifa Under 17 World Cup staged in the United Arab Emirates.
Lippi, one of the important figures in Italian Football, was convinced to come to Nigeria by the Founder and President of SamVic Football Academy, Prince Samuel Egbukwu.
When Prince Egbukwu is not involved in football matters, he oversees several conglomerates including SamVic Furniture located at Sanusi Fafunwa Street, Victoria Island, Lagos.
As part of his social responsibility, Prince Egbuwku set up the academy to aid upcoming talents achieve their aim of plying their trade overseas instead of being duped by unscrupulous agents.
Unlike several other academies, the catch here is that applicants do not have to part with a single kobo to be registered which is in line with the vision of the president .
In a chat with
allnigeriasoccer.com
, Prince Samuel Egbukwu said : "I traveled to Italy for a business trip and met with Lippi.
"After discussing with him on the need to come and scout for talents in Nigeria, I decided to take up the responsibility of bringing him down upon his acceptance.
"The essence is for him to discover and develop football talents to stardom through his expertise."
In addition, the philanthropist added that he wants to key in to the vision of the Federal and Lagos State Government policy on sports development instead of channeling all his resources to petroleum and other sectors of the economy.
"I discovered that everybody's attention is on the Oil and other natural resources as a nation leaving the area of sports especially football .
"I realize that if more attention are given to these youth they will be empowered to be respected individuals in the future.
"Also, the information reaching me that fake agents catch in on the desperation of young players to travel abroad , rip them off, and collect money from them with the promise to help them secure clubs abroad not minding their poor backgrounds is another reason for embarking on this project.
"As a businessman I feel it is my own little way of giving back to the society without collecting a dim from these players. And this is also in line with the Federal and Lagos State Government's policy on sports development.
We operate an open door policy, the players will be given equal opportunity to showcase their talents, and I assure you the best only will be selected," Prince Egbukwu stressed.
David Lippi of Reset Group Srl, Italy is scheduled to arrive Nigeria on April 12 and will run the rule over young Nigerian talents for five days.
To that end, a tournament involving six academies will be staged at the National Stadium Surulere during his stay in the country.
And after the competition, the Italian will highlight the names of players who distinguish themselves with a view of facilitating trials for them in top European teams.
Photo Credit : resetgroup.it

Latest News