Oke Akpoveta Doubtful For Inter Clash
Published: March 26, 2014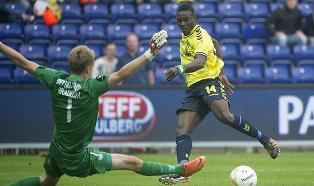 As reported by the official website of Azerbaijani Premier League team Revan, Oke Akpoveta may be unavailable for selection in the 28th round of matches against Inter Baki.
The Nigerian striker did not participate in full training with the rest of his teammates at the Bayil Arena on Wednesday.
Instead, he had an individual session with the physiotherapists as he is recovering from an undisclosed ailment.
Oke Akpoveta, whose contract with the capital team expires at the end of this season, has made 7 appearances in the topflight, with his only goal coming in the reverse fixture against Inter Baki.
Revan are ninth on the ten - team table and are need nine more points to go level with AZAL who are third from bottom.