Agent Reveals People Claiming To Have Contact With Nigeria FA Have Approached Abiola Dauda
Published: March 27, 2014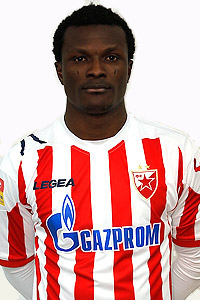 According to top Swedish agent, Patrick Mork, some unknown persons in Nigerian have promised to assist in the invitation of his client, Abiola Dauda to the Super Eagles.
Despite being on fire for the past three seasons with his respective clubs, the National Team handlers continue to ignore him for selection.
And Patrick Mork has strongly hinted that Abiola Dauda might play for Sweden if given an opportunity by manager Erik Hamrén.
"Neither myself or Dauda heard from the Nigerian FA. Only from a number of people claiming to have
contacts
and
possibilities to help Abiola play for Nigeria.
"For sure Dauda should be in contention for the World Cup. Nigeria has some very good strikers but Dauda should be up there.
"He is the leading striker at Red Star which is a big club. Mainly he is a natural scorer," Patrick Mork said.
He continued, "Dauda also has Swedish passport today meaning he could also play for Sweden. There have been speculations in Swedish media on this subject but so far also no contact with the Swedish FA"
Abiola Dauda spent around seven years in Scandinavia before he moved to Red Star in February 2013.
The 26 - year - old striker acquired a Swedish passport last summer.

Latest News