Fanendo Adi To Hold Showdown Talks With FC Copenhagen
Published: April 08, 2014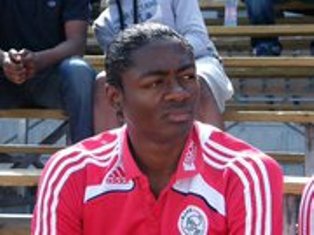 In the summer, Fanendo Adi and his agent will hold showdown talks with the leadership of FC Copenhagen regarding his lack of game time since the second half of the season began.
The 23 - year - old forward has made just 6 starts for the Danish powerhouse since his transfer from AS Trencin eight months ago.
"I am very ambitious and want to play. And with my representatives, we will talk after the season with the club and hear about their plans. For me, of course, to play, and if you are not even in the squad, it is crazy, " says Fanendo Adi to TV2 Sport.
"You will have to swallow it, but it's an incomprehensible situation. I certainly did not expect to sit so much on the bench."
Fanendo Adi had earlier claimed to be better than majority of the strikers in the FC Copenhagen squad.