Brown Ideye Blames Defenders For Loss
Published: April 15, 2014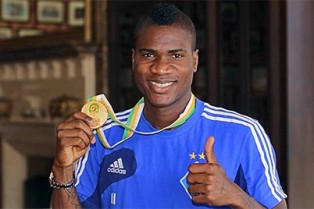 Dynamo Kiev striker Brown Ideye has admitted that the absence of some of their key defenders influenced the outcome of their last match in the Ukrainian championship against Karpaty.
Each time the Kievites took the lead against the Lviv based outfit, they were pegged back before finally settling for a 2 - 2 draw.
"To some extent - yes. yes. Because any problems affect the game. And when the problem is not one - and even more so. Our defense in the game got a new look. Of course, this does not go unnoticed," says Brown Ideye to dynamomania.com.
Six rounds before the conclusion of the league, Dynamo Kiev trail defending champions Shakhtar Donetsk with 4 points.
"We are still in pursuit of first place. In football anything is possible. Until the end of the championship to play a lot of games. If we want to be champions - now we just have to win every match," the Nigeria international added.
In the star match this weekend, Dynamo Kiev will trade tackles with Shakhtar Donetsk at NSK Olympic Stadium.
Photo Credit : fcdynamo.kiev.ua