Stephen Keshi Says He Has NOT Contacted Stefano Okaka
Published: April 29, 2014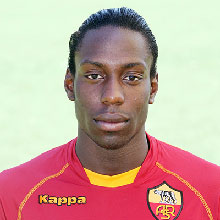 Coach of the Super Eagles, Stephen Keshi has reacted to reports that suggested that Stefano Okaka was being courted by the Nigeria Federation to defend the colours of the National Team at Brazil 2014 World Cup.
The 24 - year - old striker had earlier told the press in Italy that he was in talks with officials of the Nigeria Federation.
Based on the pronouncement by Keshi, it appears the Sampdoria man was dealing with a wrong party as he is not in the plans of the coach now or even in the future.
"Stefano Okaka? I do not know him. This is the first time I am hearing his name. He is not on the 38 - man list and you just informed me about him, " Keshi said in a statement.
Stefano Okaka remains eligible to sport the Nigerian jersey , having never played an official game for the Italian National Team.
Photo Credit: asromalive.it