Eddy Onazi Clears Himself Of Match Fixing Allegations
Published: June 01, 2014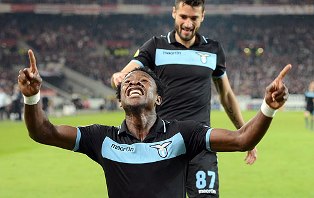 In a series of Tweets, Nigeria international Eddy Onazi has maintained his innocence, insisting that he does not plan to influence the outcome of matches at the World Cup.
British newspaper, The Sun, had earlier reported on Sunday that the Lazio midfielder held a meeting with Henry Chukwuma Okoroji, an alleged match fixer.
But the Super Eagle has stated that he was committed to attending the meeting as the Italy based agent deceived him he had an endorsement deal for him, and consistently denied he planned to bring the game into disrepute.
"First, let me state unequivocally that I have no link whatsoever to any individual or group with ties to the corrupt issues of match fixing.
"A certain Mr Okoroji was mentioned in the publication. My previous contact with Mr Okoroji was based on the fact that we are both Nigerians.
"As a matter of fact, I am surprised to learn that Mr Okoroji is a FIFA licensed agent,
" Onazi said.

He added : "On the day of this meeting, he had earlier told me that his associates had an endorsement proposition for my consideration.

"I duly informed my friend and who manages my affairs. When I got to the meeting, I found out it was all about fixing matches. I told them a resounding NO and left.

"
Finally, the 21 - year - old thanked his associates who stood by him since the news linking him with Henry Chukwuma Okoroji
was published.
Latest News