Yobo, Onazi Say World Cup Is A Totally Different Ball Game
Published: June 06, 2014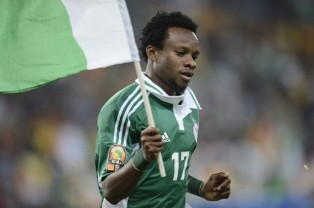 Ahead of the start of the World Cup in Brazil next week, Joseph Yobo and Eddy Onazi have proclaimed that the results of the Super Eagles exhibition matches are not a true reflection of their preparation for the mundial.
In case you were not aware, the Super Eagles have not won a game since that 2 - 0 defeat of Ethiopia last November, sharing the spoils with Italy, Mexico, Scotland and Greece in their last four tune - up matches.
"We have to give our all in the tourney because in future people will ask when you were playing what did you achieved.
"We have won the Nations Cup, now is the time to aim for the big one," Joseph Yobo, who has featured in two previous editions of the world cup, said.
Lazio midfielder, Eddy Onazi added : "Yes, they say we have not been scoring many goals but these are preparatory games, when we come to the tournament proper they will see the real Nigerian national team."
Nigeria last won a world cup game 16 years ago, precisely June 19, 1998, defeating Bulgaria 1 - 0 in their second Group D fixture.
Latest News