Stephen Keshi : Mikel Is A Great Player
Published: June 16, 2014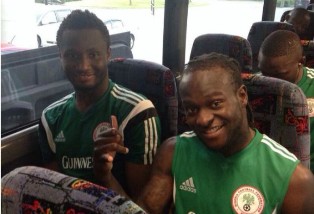 Speaking at a press conference on Sunday after training, Stephen Keshi believes Nigeria have more than enough quality in the squad and will not rely on one individual.
The Nigeria manager refused to give a hint about his starting lineup, stressing that the Super Eagles play as a team.
"Mikel is a great player, but we have not just him. Our team is a team, very collective. Mikel has everything to make a strong team, but we can not just think about him.
"It's all about the team, not just one player. Mikel is very important, but as well as team needs him, he needs the team. I hope he can excel in this tournament," said Keshi.
Nigeria, Ghana, Cameroon, Algeria and Ivory Coast are Africa's flag bearers at the mundial, and Keshi believes they will prove too strong for their opponents.
"I think an African team is very close to winning the Cup. Why? Because we are good (laughs). This is an open tournament. We just need to do that which we propose. I want to get to the final stage of the tournament. " he concluded.
The Super Eagles have never lost an opening fixture at the World Cup against a non - South American opponent.
Latest News