Super Eagles Boycott Thursday Training Over Bonus
Published: June 27, 2014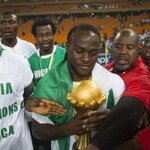 The Super Eagles boycotted their training session scheduled to take place on Thursday evening at Estádio Brinco de Ouro to press home their demands to be paid World Cup appearance fee by the Nigeria Football Federation.
The practice session was to begin at 6 pm local time, and at 530 pm the team coach was prepared to take the squad to the stadium, but no player or team official stepped out of the hotel.
Instead, a meeting between the players and team officials was held at one of the Vitoria Hotel Concept rooms at around the same time.
The Super Eagles are due to leave Campinas on Friday for Brasilia, venue of the last 16 game against France on Monday evening.
Nigeria is not the first African country to be involved in a bonus row at the ongoing World Cup.
Only recently, Ghana squad threatened not to travel for the group fixture against Portugal while Cameroon delayed the trip to Brazil until an agreement was reached with the FA.
Latest News