Eddy Onazi To Spend Few Weeks On The Sidelines, Keshi Unhappy With American Referee
Published: June 30, 2014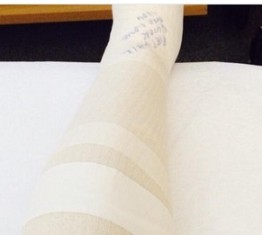 Nigeria international Eddy Onazi would have to spend the next few weeks on the sidelines after PSG midfielder Blaise
Matuidi stepped on his ankle during the second half of the France - Nigeria second round World Cup tie.

The injury was so serious that the Lazio starlet had to move straight to the dressing room after he left the pitch in the 59th minute.

Despite what appeared to be a red card offense, the American referee Mark Geiger only issued a yellow card to the Frenchman, and his action was criticized by Stephen Keshi in his post match comments.


"

The referee decides what happens on the field. I am not happy because on two occasions took Onazi was fouled and nothing was done by the referee. And now he is going to be sidelined for weeks
,
" Stephen Keshi told reporters.

21 - year - old Eddy Onazi suited up four times for the Super Eagles at the World Cup.

Photo Caption : Eddy Onazi
's

bandaged leg
Latest News