Odemwingie Hints Referee Failed To Award Penalty To Nigeria
Published: July 02, 2014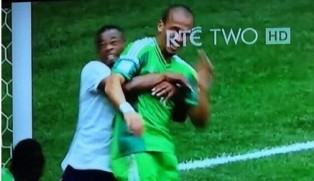 Stoke City forward Peter Odemwingie has commented on the incident involving him and Manchester United's France international Patrice Evra during the game between Nigeria - France on Monday afternoon in Brasilia.
The 32 - year - old has suggested that Evra deserved a red card, after he was held by the defender in the penalty box, but the offense was not spotted by American referee, Mark Geiger.
"You can see why I couldn't jump and also couldn't fall. If I do that to him at old Trafford? Penalty and probably red card," Peter Odemwingie said on
Twitter.
For the third time in five tournaments, the Super Eagles failed to qualify for the last 8 after reaching the second round, following their 2 - 0 loss to France.
The squad is scheduled to leave Brasilia on Wednesday for Nigeria.
Latest News