Lazio Will Not Seek 15,000 Euros Compo Bill From Fifa Over Onazi Injury
Published: July 02, 2014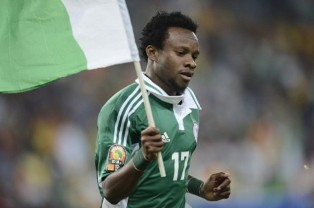 Lazio will not ask for damages from Fifa following the unfortunate injury to Nigeria international Eddy Onazi during the second half of the clash against France in Brasilia two days back.
The Legal Chief of the capital outfit, Gian Michele Gentile, has told the press in Italy that he has no mandate from the club to seek compensation from the governing body of football.
" I do not know anything, I had no appointment with the President. And one thing we never talked about it,"Gian Michele Gentile told Lalaziosiamonoi.it.
Assuming the leadership of the
Biancocelesti
had pressed for damages from Fifa, the club would have claimed a maximum amount of 15,000 Euros, which is a percentage of the salary the midfielder earns at the Italian side.
Contrary to trending reports, Eddy Onazi did not fracture his ankle, but sprained it, and would spend at most four weeks on the sidelines.
Latest News