Alaafin Urges Nigerians To Remain Positive About Super Eagles
Published: July 02, 2014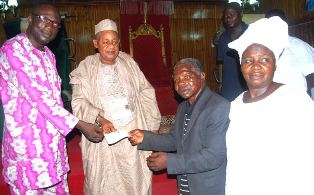 Respected Yoruba Monarch, Oba Lamidi Olayiwola Adeyemi, the Alaafin of Oyo has urged Nigerian soccer fans to remain optimistic about the Super Eagles, claiming that the team gave us fair representation at the on-going Brazil 2014 World Cup hence deserve appreciation and not condemnation.
The sports loving monarch stated this in his palace while giving the former African and Commonwealth and boxing champion Dele Jonathan who has been battling with his health a .3 million naira lifeline to support his medical treatment.
Oba Adeyemi told newsmen that Nigerians should cultivate the habit of appreciating their sports men when active or in active and either victorious or otherwise noting that Eagles were gallant even in their defeat to France in the second round of the Brazil 2014 World Cup.
"The Super Eagles were courageous in every of their outing in Brazil. We should be proud of them because they fought a brave fight and gave a good account of themselves even against the highly rated Argentina and France.
"This performance is an improvement over our previous outings in FIFA World Cup, we should also understand that, that is the nature of sports as other top rated football nations such as Italy, Spain, Portugal, parading World Footballer of the Year, England and others were shown the exit door in the very first round if the tourney."
The monarch after given clothes and cash to Dele Jonathan and his wife, however, pledged a monthly salary to the ailing former boxing champion for his up-keep while pledging to foot his subsequent medical bills.
The septuagenarian, who represented Nigeria in 1968 Olympic had been bedridden for more than a year without getting a tangible financial support from any quarter to alleviate his predicament.
Photo Caption: L-R Chairman Oyo State Amateur Boxing Association, Baron Akintunde Opaleye, HRM Oba Lamidi Olayiwola Adeyemi presenting 0.3million naira cheque to former Commonwealth boxing champion, Dele Jonathan and his wife Adenike Jonathan at Alaafin's palace Oyo.
Latest News