Super Eagles Depart Brasilia For Abuja, Hosted By Ambassador Adamu Emozozo
Published: July 02, 2014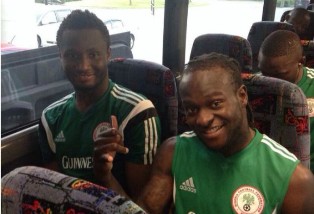 The Super Eagles were scheduled to depart the President Juscelino Kubitschek International Airport, Brasilia at 1845 hours Nigerian time for the nation's capital Abuja following their elimination from the World Cup.
The ambassador of Nigeria to Brazil,
Adamu Emozozo, had hosted the Nigeria squad on Monday evening, shortly after they crashed out of the tourney, losing 0 - 2 to France in the second round.

And they decided to remain in Brazil for an extra 48 hours before leaving for their homeland.

It should be noted that not all the members of the squad will embark on the flight to Abuja as some of them have returned to their own base or gone on an extended vacation.

The Super Eagles contested four games at the World Cup, wining one, drawing one and losing to Argentina then France.

They scored three goals at the tourney while Vincent Enyeama picked the ball from his own net on five occasions.

Latest News