Eddy Onazi Rubbishes Quotes Calling For Fifa To Ban Blaise Matuidi
Published: July 03, 2014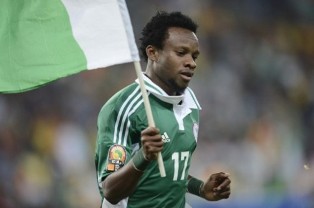 Lazio midfielder Eddy Onazi has said that quotes attributed to him by the local media, calling for Fifa to ban France international Blaise Matuidi for injuring him this past Monday at the World Cup are fiction, or hitting the nail on the head, they were manufactured.
"I never granted any interview calling for FIFA to sanction Blaise Matuidi. I was unfortunate to be at the wrong end. It could have been him," the former My People FC starlet said on his official Twitter page.
As previously reported by this portal, the Nigeria international did not suffer a fracture but only sprained his ankle, and he has confirmed as much through the same medium.
"Contrary to what you have read, I didn't suffer any fracture. Fortunately, it was a sprain," Eddy Onazi added.
The central midfielder is reportedly on the radar of teams in England, and is available for a transfer fee in the region of eight million Euros.
Latest News