Mighty Jets, Supreme Court Match Ends In Stalemate
Published: August 17, 2014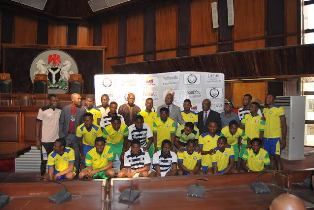 One of week 24 matches of the Nigeria National League (NNL) between Mighty Jets of Jos and Supreme Court FC of Abuja ended in stalemate after match officials failed to show up for second half.
It was an encounter which began on a thrilling note before Supreme Court FC striker; Eric Eric scored first in the 5th minute and was categorically disallowed by Centre Referee, Bala Marwa.
Ten minutes later, home side, Mighty Jets registered their first goal. As the match progressed, both sides had their chances but none produced goals.
It was until the 39th minute when Centre Referee issued Supreme Court Goal Keeper, Uche Nwokeji a red card before stoppage time.
Following what many described as controversial decision by Match officials, Supreme Court players choose to remain calm before the game went into half time.
However, the match officials refused to come out for the second half without further explanation.
Commenting on the development, a match Commissioner from Jos, Plateau State who preferred to lie low wondered "I don't know why some Referees who have not internalized the laws of the game are being allowed to officiate matches.
"As long as I'm concerned, this match didn't serve its purpose. What do you tell fans that left whatever they are supposed to do and came here to pay to watch match.
"Even if the Referee was induced, he would have handled the match maturely and yet the home team could still get their points."
Efforts to get the two Coaches of either side to comment proved abortive as they declined to speak.
Latest News