Greece match is a win or burst game for Nigeria- ZAPATA
Published: June 14, 2010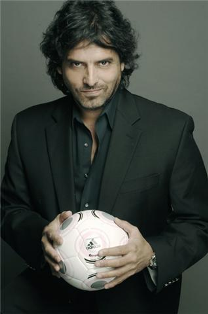 The Argentine coach of Sunshine Stars,Rodolfo Zapata has told allnigeriasoccer.com that the Eagles coach,Lars Lagerback was too defensive against the Argentine team on Saturday.He says the Eagles must win the next match against Greece on Thursday to stand any chance of progressing to the next round.
''As i earlier revealed ,the match was going to be a difficult game for the Nigerians.It was a strange game but if the Argentines had won 4-0,nobody would have complained.The result was flattering.The match could have also finished 1-1 because the Nigerian strikers had some scoring chances in the closing stages of the game.
''Argentina passed the test.They wanted to win the game more than the Nigerians.You don't lose your first match in a big tournament like the World Cup.The Argentines were more offensive and displayed a positive attitude throughout the match.For the first time,Messi played well with the national team,a brilliant individual performance by the Barcelona star.
''Last Saturday,Nigeria did not want to lose the game.It's different from wanting to win the contest.Lagerback did not encourage the team to attack.I think it would have been a different story if he had encouraged the team to attack.What Lagerback did was to adapt a defensive tactical system,he left only a striker upfront.
''There is now only one way for the Nigerian team.Beat Greece on Thursday or the World Cup is over for them.It's a win or burst game.But Nigeria has a lot of talent to defeat Greece and even go further by winning the World Cup.
''Nigeria should come out to attack the Greeks immediately the match kicks off.No two ways about it.I expect Lagerback to start Victor Obinna,Obafemi Martins and Osaze Odemwingie from the start.''