Alicante And UD Salamanca Rejected Chance To Sign Ikechukwu Uche
Published: October 02, 2014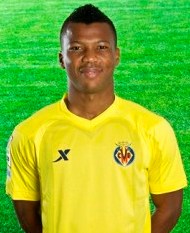 Alicante and UD Salamanca passed up the opportunity to sign Nigeria international Ikechukwu Uche when he arrived Spain from domestic club Iwuanyanwu Nationale.

Spanish daily Faro De Vigo says the Villarreal striker had negotiated with both teams but failed to strike terms before his switch to Racing Ferrol when he clocked 18.

Now nearing 31, Ikechukwu Uche will be making a return to Galicia when the Yellow Submarine tackle Celta Vigo in the La Liga on Sunday.

Recalling his first days in Spain with
Racing Ferrol, he has admitted that he found it difficult to adapt to Spanish football due to communication barrier.

He told the newspaper :
"Not knowing the language, I could not hear much of what was happening there. All I did was train, train and play ... back to the hotel.
"

During his first four years in Spain, Ikechukwu Uche defended the colours of Racing Ferrol and Recreativo, as the top sides felt it was a gamble signing him.

He is now a key player for Villarreal, having netted 30 goals in all competitions since his switch from Real Zaragoza hours before the close of the summer transfer window in 2011.


Photo Credit: villarrealcf.es