Exposed : Abuja Football College Academy Holding Minors Without Their Consent; Rijeka Fingered In Child Trafficking
Published: October 10, 2014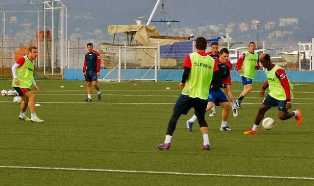 After months of investigations,
allnigeriasoccer.com
can report that Abuja Football College Academy is involved in a scandal tantamount to child trafficking and kidnapping of minors.
The minors that are enrolled in the academy which produced the likes of Goodness Ajayi, elder brother of Isaac Success, and Theophilus Solomon, have been complaining bitterly about how the management is treating them.
For a start, all the international passports of the players have been seized by the coordinator of the academy,
Clement Kumbi Titiloye, to prevent them from leaving the camp and signing for another team without their consent.

And the affected players who want to seek pastures new have claimed that they did not sign any contract with the academy, just an agreement form, where it was stated that they have to obey the rules and regulations of the academy.

The players are not adequately remunerated, with the highest paid players (18 years and above) at the academy receiving =N=4,000 as allowance every month.

17 - year - olds receive =N=3,000 per month, 16 - year - olds get paid =N=2,000 while =N=1,000 is the monthly allowance for players aged 15 years.

In June, the squad traveled for a tournament in Croatia, and the players who made the trip were paid a paltry €150 each as traveling allowance, which they complained was not enough to cater for their needs for close to one month they spent in Europe.


Abuja Football College Academy was set up two years ago, and their main aim was to transfer the sporting rights of their outstanding players to Spezia (Italy) and Rijeka ( Croatia).

If that is done according to Fifa rules is another matter, as players yet to attain the maturity age of 18 are trafficked abroad to HNK Rijeka.
To beat Fifa rules, the higher ups at
Abuja Football College Academy claimed the
players were traveling to Croatia for a student exchange programme.
It is confirmed that no member of the Academy Team of Rijeka has visited Nigeria in return.
Now, the students of
Abuja Football College Academy are appealing to the Nigeria Football Federation to release them from the bondage.

Latest News