David Alaba Named In Starting LineUp For Shakhtar Donetsk Clash
Published: February 17, 2015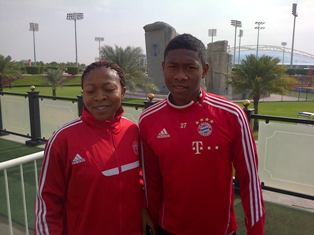 Austrian - Nigerian wing-back David Alaba has been named in the starting lineup for Tuesday night
's Champions League meeting between Bayern Munich and Shakhtar Donetsk.

The Austria international did not feature in the last two games played by the Bavarians in this competition after suffering knee ligament injury against Roma in November.

But he has since recovered, with four appearances in he Budesliga since January 2015, scoring in the 2 - 0 win over Stuttgart.

The first leg of the round of 16 will take place at Lviv Arena, starting from 20:45 hours.

22 - year - old David Alaba has not scored in the UEFA Champions League for more than a year.